Ingredients
1 egg
1 pound onions diced
5 tablespoons butter
1 teaspoon salt
1 teaspoon Worcestershire sauce
2 pounds miced beef
2 cups fresh breadcrumbs
approx. 20 slices of bacon
Cook the onions gently sprinkled with the salt, for about 20 to 25 minutes or until the onions are golden.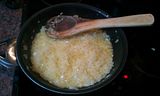 Remove to a bowl to cool.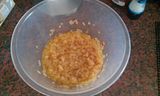 Put the Worcestershire sauce and minced beef into a bowl, and when the onion mixture is not hot to the touch, add to the bowl and work everything together with your hands.
Add the egg and mix again before finally adding the breadcrumbs.
Shape the mix and pat into a solid loaf shape.
Cover the meatloaf with slices of bacon, tucking the bacon ends underneath the meatloaf.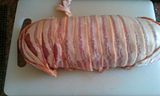 For this i've used some American style bacon that i've seen in the supermarket recently as i'm hoping it'll crisp up more than regular english bacon.
Finally it's off to the smoker, i'm using hickory and cooking at 250f.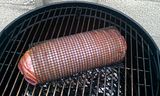 After about 3hrs you'll end up with one of these.
Moderator

Joined: 14 Aug 2010, 18:48
Location: Swindon
---
yum yum
Twisted Firestarter

Joined: 22 Sep 2010, 12:55
Location: Sussex
---
looking fine!
Rubbed and Ready

Joined: 20 Oct 2009, 11:55
---
Well meatloaf leftovers for tea this evening, and i swear it gets better & better
Moderator

Joined: 14 Aug 2010, 18:48
Location: Swindon
---
Ed. thanks for the recipe, looks great and could be fantastic leftovers in the lunch box for work.

Eddie
Rubbed and Ready

Joined: 08 Jan 2011, 02:40
Location: Ashford Kent
---
I'm not a meatloaf fan to be honest but I'd give that a try!
Moderator

Joined: 19 May 2010, 19:25
Location: Sunny (sometimes) North Devon
---
DrSweetsmoke wrote:Oscar Mayer is EXCELLENT!!!! It's the best bacon to use one anything BBQ related
I'd agree with that, it's not tough when cooked a low heat anf you still get a bit of crispy goodness without overcooking your main bit of meat.
DrSweetsmoke wrote: Bookers has it at a somewhat fair price if you ever want to stock up so let me know when you want to make a run.
I didn't realise that you could get it in Booker, i got it from Sainsburys but i've got a Booker card now so i'll make sure i look out for it when i'm there.
Moderator

Joined: 14 Aug 2010, 18:48
Location: Swindon
---
Oscar Mayer Bacon....YUM!!!!
It's almost....
almost
as good as the bacon I make!
LM600
---
---
Who is online
Users browsing this forum: No registered users and 1 guest