So less than two weeks ago i hadnt even heard of a UDS at all, i was merely like many looking to buy a smoker and was on ebay etc and "nearly" bought one of the cheapo £100ish offset smokers, if im honest mainly as they look cool and funky.. But like many i always research purchases online and soon read 100s of comments about avoiding those cheapo offsets, then i read lots comments about building a UDS..
"build a what?" i thought..
Well fast forward just 10days and i have my drum, managed to get an unlined drum thanks to a tip from Forumite, and the build is on:
Day 1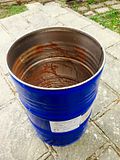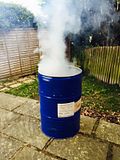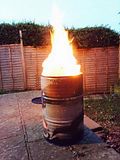 Today after a good 4-5hr burn last night is time for the elbow grease to take hold...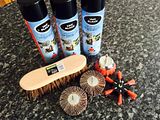 Still Raw Inside

Joined: 02 May 2015, 18:20
Location: Kent
---
Got Wood!

Joined: 30 Jul 2014, 12:55
Location: Ipswich
---
I do not mind this was awesome.
Still Raw Inside

Joined: 12 Sep 2015, 10:08
---
charcoal basket looks ace indeed. I used a stainless steel washing machine drum and drilled extra holes in but I still wonder a. does it have enough holes to let sufficient air in and b. does the 'inward' ring at the top of the drum somehow cause some heatloss...
Got Wood!

Joined: 12 Apr 2016, 14:10
---
Where did you get your drum from?
Rubbed and Ready

Joined: 31 May 2013, 18:32
---
---
Who is online
Users browsing this forum: No registered users and 1 guest