I wanted to wait till I'd done a few different types of cooks on this before posting a review. After cooking for over 18hrs on it for a group of 20 people last weekend, I reckon I'm starting to get a decent idea.
After some research across various sites I went for the GMG Daniel Boone. It was as big as I needed, very easy to control, cheap to run and the one thing that really stood out was the reviews of GMG's customer service. If Im spending £695 on a smoker I want to know Im in good hands.
Delivery & set up
I actually collected mine from Chris at awesomegrills just outside York, but delivery is included in the price. The unit comes as one large central piece with just legs, chimney, handle and side tray to attach. Im not the handiest person in the world but it took me no more than 30mins to put together.
All assembled.
There is a heat deflector and side vents to install and a full length drip tray. Lined the tray with foil and inserted grates. About 5 minutes in total.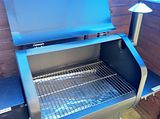 Added the drip bucket and we were ready to go
First Burn
This was as easy as I'd seen from the GMG videos. Primed the firebox with a few pellets, filled the hopper and turned it on.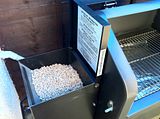 When you turn on the GMG it cycles through a few phases. The auger turns, feeds pellets into the firebox and ignites. It really is that simple.
Power
When mains power isnt available, its nice to know that this thing isnt too power hungry. My battery pack with a 300w inverter has no trouble running it,
Cooking
As you can imagine its a doddle to use. It gets to temp quickly. About 15min from powering on and Its very responsive. There is a slight temp variation it seems from one side to the other, all of about 10° and I can live with that. Testing on some of the sites like pelletheads reckon at about 250° it consumes about 1lb of pellets an hour. Roughly 60p. Ive not tested that myself but the results seemed pretty thoroughly worked out.
The European smokers only display in °C at first I thought this may be a problem but its amazing how quick you learn what the equivalents are. The temp can be changed in 1° increments and also displayed in smoker or food temperature with the supplied food probe. The hopper also has a low pellet alarm to warn you you're running low.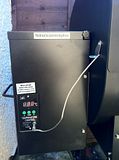 Food probe attached to control panel.
Clean Up
A quick brush of the grates, tear a layer of foil from the drip tray and empty the bucket, done.
At the end of each cook you can set the grill to clean itself. It burns any remaining pellets left over in the burn pot while a fan blows out the ash. I was truly amazed at the small amount of ash left over. After several overnight smokes there was never any more than a couple square cm left in the pot.
The food
40lb of pork shoulders on a bodged second shelf.
Probably the best pork I've cooked so far
4.5kg of home made turkey pastrami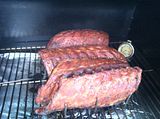 And finally some ribs.
Conclusion
The only downsides I have found so far is the lack of a second shelf. A GMG one can be purchased but I'll probably sort something out and there is a slight drip of grease from the elbow of the chimney. I'm talking really slight. After that 18hrs of cooking probably about 4 drips. Nothing that cant be fixed with a dab of high heat sealant so I've read.
I know by now its starting to sound like im on commission, but I do love this smoker. Its still early days with it, but I'm very happy with my purchase.
Nick
Last edited by
Saucy Pig
on 05 Aug 2012, 13:36, edited 1 time in total.
Got Wood!

Joined: 21 Mar 2012, 16:53
---
Great review, food looks good, to.
Moderator

Joined: 05 Aug 2011, 13:35
Location: Stevenage, Herts
---
Cracking job Nick, will this be ur competition kit? How will u transport it...looks heavy
Twisted Firestarter

Joined: 19 Feb 2012, 10:47
Location: Arlesey, Beds
---
Hopefully it will yeah. Legs come off so shouldnt be too much of a struggle.
Got Wood!

Joined: 21 Mar 2012, 16:53
---
super easy to transport. I used my GMG at every IBQN comp. this year and will continue to do so for the foreseeable future.
Rubbed and Ready

Joined: 20 Oct 2009, 11:55
---
This is the puppy I've got my eye on.

Is it worth paying the extra for the Stainless Steel Lid & Remote Control?

Do you both use the GM pellets?

Pete
Got Wood!

Joined: 11 Mar 2013, 10:48
---
I use the GMG pellets as they still seem a decent price and I do like the flavour. Its a blend of woods that tastes good on everything I've cooked so far. I just didn't want to take the risk of buying something cheaper and having something go wrong in the auger or firebox.
As to the lid, I have the normal black one. I think the ss one is supposed to be anti warp, but I've not had a problem with leaking lids, I might consider it if I was doing a lot more high temp stuff I suppose. The drip pan has warped ever so slightly, but I just lay it flat on the ground and stand on it. Fixes it right up.
The remote I suppose is a purely personal choice. My smoker is right next to the back door and I don't change temps a great deal when cooking so it just didn't seem needed. Changing temps is so easy on the thing anyway. I like it so much I'll be buying the bigger version in a few months hopefully to help with my catering.

Hope that helps, any more questions just shout.

Nick
Got Wood!

Joined: 21 Mar 2012, 16:53
---
Thanks Nick.
I'm pinching your idea of what looks like bricks wrapped in tin foil to support a second shelf.
I guess they would also act as a heat source to help maintain the temp in the smoker.
All geared up and ready for my first pork butt this weekend.
Also smoking some home-made Franks, so looking forward to them as well.
Is there any other hobby that offers such a rewarding end product? I don't think so.
I have never been so popular with friends and family
Pete
Got Wood!

Joined: 11 Mar 2013, 10:48
---
Glad I could help.
Once I realised Id need a 2nd shelf more often I opted for a more permanent solution.
I got some threaded stainless steel bars and some large thin washers from screwfix. Nick at AmericanBBQ kindly supplied me with a grill shelf from a Traeger. With a large washer bolted to each end at the height I needed it works really well
You can see how that looks here
Only thing I had to do was the washers had a zinc coating. Some studies have suggested that zinc can give of harmful chemicals when cooked. Not sure if thats true or not, but soaking in white vinegar for a few hours removed that zinc nicely
Nick
Got Wood!

Joined: 21 Mar 2012, 16:53
---
The simple solutions are always the best Nick.
My pulled pork and home-made cold smoked Franks were amazing! (Even if I do say so myself)
Even with it pouring down all day didn't stop me - Nothing a couple of fence panels and a tarp can't fix
Brisket and cupcake chicken planned for next weekend.
Pete
Got Wood!

Joined: 11 Mar 2013, 10:48
---
---
Who is online
Users browsing this forum: No registered users and 1 guest