Had this a few months now and just realised Ive not posted about it.
First mentioned by Swindon Ed back in April was really interested to see how well it could do as I tend to worry a bit over fluctuating temps.
Just unpacked everything from box.
Temperature probe with clip, PartyQ, wsm style adapter and metallic tape for covering vent.
Close up of just the PartyQ.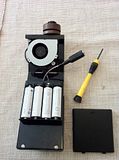 Underside showing fan and battery compartment
WSM type adapter fitted to Excel20. Fitted through one of the open vent holes and screwed in place from the inside. Open holes on vent covered with metallic tape. Other two vents closed.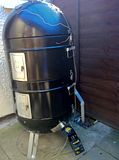 PartyQ fitted to Excel20. It does look a bit precarious but it held in place better than I expected.
After the cook, inserted the supplied silicon plug to block off air and kill the fire.
First off, a warning. If you're going to go ahead and import one of these from the States the government will want its share. Instead of coming home to find this, I had a nice little note from Parcelforce saying that it would cost me an extra £42 in duty fees in order to be able to collect it from my local depot.
The adapter didn't seem to ever get too hot and on the few occasions I had to turn it off, I didn't feel any massive increase in temperature around the fan. It was also incredibly easy to push into its adapter and could be installed or removed in seconds.
Once up to temp it held it pretty much rock solid for over 6 hours till the charcoal needed topping up. It was pretty responsive to me changing the temp I wanted and it carried on puffing away for over 12 hours till my cook was done. Even then the battery warning had not been displayed. I believe it shows low battery at around 30% capacity. I can heartily recommend getting yourself some decent rechargeable batteries to save money in the long run.
Overall very impressed and I'm hoping to get much use out of it in the future.
Nick.
Got Wood!

Joined: 21 Mar 2012, 16:53
---
Moderator

Joined: 05 Aug 2011, 13:35
Location: Stevenage, Herts
---
It's arrived
Yep got me one of these too, cant wait to try it out but the weather is conspiring against it & i need to organise some meat so i can give this a shot real soon..............
Looks good, compact, simple and well priced, not sure about posting prices for bringing one over but if u want a breakdown of the total cost PM me.....
Super fast service from BBQ Guru
, however on a sligthly bitter note Parcel Force are
"POOP"
parcel took only two days to get here from America from initial point of order to landing at my local depot but has languished there for 4 days waiting for someone to get off their bum and deliver it...had to collect it in the end, even after paying an additional 12 squid to have next day delivery from point of duty charges being paid
http://www.thebbqguru.com/search.php?se ... yq&x=0&y=0
Twisted Firestarter

Joined: 19 Feb 2012, 10:47
Location: Arlesey, Beds
---
I've just finished my first cook with one of these so thought I'd give some first impressions. The guys at BBQ guru told me it didn't have a powerful enough fan for a UDS, and suggested I opt for something like a CyberQ instead. I suspected this might be a spot of cheeky up-selling on their behalf, and after searching around a bit I found plenty of reports saying it worked very well with a UDS, so bit the bullet and bought one.

total cost breakdown for me:
$25.00: 3/4" adaptor
£129.00: PartyQ
$40.85: Shipping
Total: $194.85 (£122.59)

Plus the import tax stinger of £37, so
Grand Total: £159.59

I wanted to test its stamina for my first cook, so plumped for smoke drying some tomatoes, which require 150f for about 24hrs. To get things going though I did the first 3 hrs at 220f.

The PartyQ held both temps relatively steadily. There was a slight bit more fluctuation while it was trying to keep 220. It would drop to about 210, but managed to right itself within a couple of minutes. I've just checked it after leaving it overnight at 150, and it's still holding steady.

After 16hrs, there is still about half left of the 5kg(ish) charcoal I started the burn with, which I'm very pleased with.

The battery warning light still isn't on after 16hrs, which I'm very impressed with. I'm using the supplied batteries but will be switching to rechargeable once they fail.

All in all I'm pretty bowled over by it! It ended up a bit pricier than expected but it's so effective, I'm not bothered.

I'm doing a shoulder once the tommies come off. Let's see how long these batts can hold out for!
Got Wood!

Joined: 04 Aug 2012, 18:05
---
Great revue, glad it's working out for you
Moderator

Joined: 05 Aug 2011, 13:35
Location: Stevenage, Herts
---
---
Who is online
Users browsing this forum: No registered users and 1 guest