Re: Cast iron grates - worth the money?
Posted:
11 Jun 2012, 09:04
Cooking on cast iron is definitely different than cooking with stainless steel grids. Am just about getting the hang of it now - after 10 or so cooks with it. I guess the heat retention is much better & that leads to a shortening of cooking times for fast grilling - certainly for steaks. The sear marks are as good as you would expect though!
The maintenance is a bit of a pain - I spray them before & after each cook. It's the after that's a pain - because I normally remember right before I am ready to hit the sack!
My wife bought a little spray bottle which we filled with vegetable oil & we just spray on & wipe down after each cook. Even doing this & the fact that they come pre-seasoned we have had a little rust in a couple of places. This just wipes off & gets covered in oil. I am hoping that once they get a good build-up on them, this becomes a little less effort.
I've only used the griddle once - to be honest I think I'll use this the least although the flat side would be good for bacon & eggs when I get around to doing a BBQ breakfast. The wok is great for smaller & thinner items & I've used this a number of times - in fact this lives in the Kamado Joe along with two grill grates.
Steak on cast iron Craycort grates on the Kamado Joe: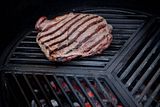 Steak on cast iron Craycort grates on the Kamado Joe: