Cooking on cast iron is definitely different than cooking with stainless steel grids. Am just about getting the hang of it now - after 10 or so cooks with it. I guess the heat retention is much better & that leads to a shortening of cooking times for fast grilling - certainly for steaks. The sear marks are as good as you would expect though!
The maintenance is a bit of a pain - I spray them before & after each cook. It's the after that's a pain - because I normally remember right before I am ready to hit the sack!
My wife bought a little spray bottle which we filled with vegetable oil & we just spray on & wipe down after each cook. Even doing this & the fact that they come pre-seasoned we have had a little rust in a couple of places. This just wipes off & gets covered in oil. I am hoping that once they get a good build-up on them, this becomes a little less effort.
I've only used the griddle once - to be honest I think I'll use this the least although the flat side would be good for bacon & eggs when I get around to doing a BBQ breakfast. The wok is great for smaller & thinner items & I've used this a number of times - in fact this lives in the Kamado Joe along with two grill grates.
Steak on cast iron Craycort grates on the Kamado Joe: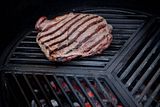 Steak on cast iron Craycort grates on the Kamado Joe:
Rubbed and Ready

Joined: 25 Mar 2012, 14:00
Location: Berkshire
---
Great news, I may even venture into a set, however I have the Outdoorchef C I grill & griddle. Despite seasoning it as I have done with other CI pans, as per manufacturers recomendations, wiping it with oil it's stil a burger to use (
) and clean up. Having it on a gas grill I tried to get it to a very high heat to carbonise any residue (there was lots
) but still have bits stuck on.
I'll persevere though this "season".
Moderator

Joined: 05 Aug 2011, 13:35
Location: Stevenage, Herts
---
Bringing an old thread back to life.....

Simon - do you still use your Craycort much?

I have just ordered a set of grills + 2 griddles + lifter for my large BGE. They look really quality.

Anybody have any tips on good products to elevate them if required for temperature control . The only product I have seen is the 3 leg spider in the US but it does not look ideal.

Cheers

Sent from my LG-D855 using Tapatalk
Got Wood!

Joined: 02 Apr 2014, 15:44
---
---
Who is online
Users browsing this forum: No registered users and 1 guest