Did you manage to find one?
stevenscustomguitars wrote:i know this is an old thread but i'm looking to build one of these and was wondering if anyone has found a cheap tamale/stockpot in the UK that fits?

Cheers
Dave
Still Raw Inside

Joined: 18 Aug 2016, 12:24
Location: North Yorkshire
---
I just tried to buy one, but at checkout it says cannot ship to my address. Hmmmmm ???? I have contacted the seller.
Clayfish wrote:I've just ordered one of these:

http://www.amazon.com/Imusa-Steamer-Pot-Aluminum-32-Quart/dp/B0018EAV4M/ref=sr_1_1?ie=UTF8&qid=1341931054&sr=8-1&keywords=imusa+tamale+steamer

Hopefully it fits otherwise I'm going to have to learn what a tamale is

!

I will post here when I've made the mini, waiting for the pot from the US, will have to source the rest of the parts as well.
Still Raw Inside

Joined: 18 Aug 2016, 12:24
Location: North Yorkshire
---
Hi it's been a while since I been on the forum but due to circumstances I no longer have my Akron kamado as such I had to build a mini WSM using a JUMBO JOE and a 70 litre pot.
(NOTE: this is NOT a build of a mini WSM using a smokey joe)
The pot I used is a Bergland brand from Germany and can be bought for about £85 from various home brewing websites.
This pot is used mainly for home brewing but works perfectly for building a mini WSM.
https://www.themaltmiller.co.uk/product/70-litre-stainless-steel-pot/
I bought the pot and here is a guild to my build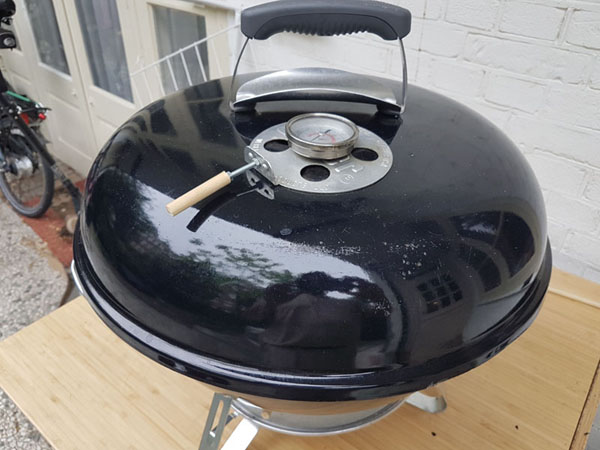 This is my old Jumbo Joe that I acquired a few years ago and that has been in cold storage.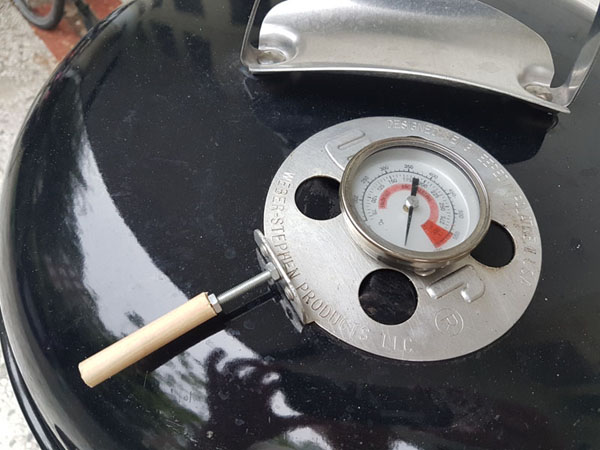 Some basic mods include the handles for the air vent and the addition of a thermometer.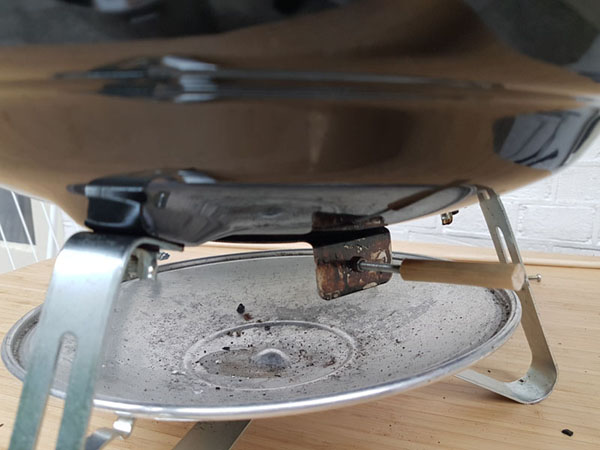 And a handle on the lower air vent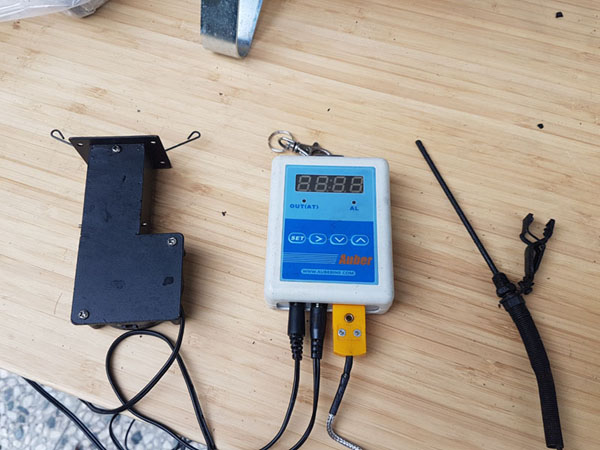 This is my Auber pit controller that was originally used for my akorn kamado.
If you are interested you can buy it from here and they send overseas. Their customer service is very good!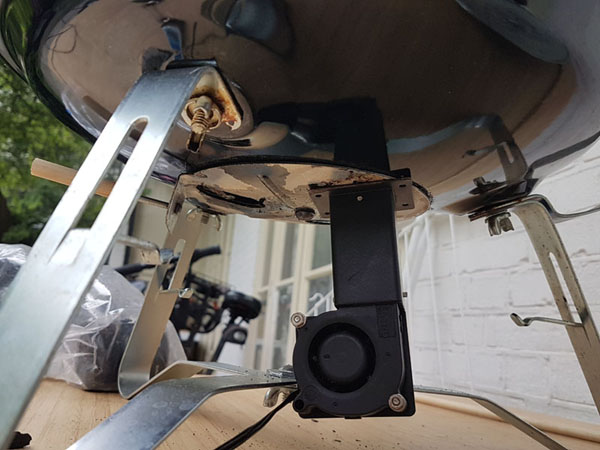 If you remove the ash catcher you can connect the air blower to one of the bottom air vent holes and seal the other two holes with foil.
I made a foil cover for this hole to prevent hot embers from falling down the air vent but despite this I found that cooking fat still managed to make it ways into the blower attachment.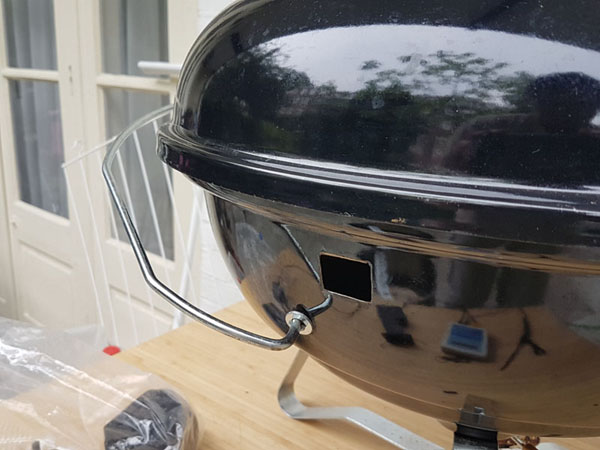 Instead of connecting on the bottom air vent I used a Dremel to cut a 2cm x 2.5cm cut into the side to attach the blower.
I did not cut the whole piece off though. I left the top part uncut and just pushed it inside so that it can be used to adjust the direction of the air flow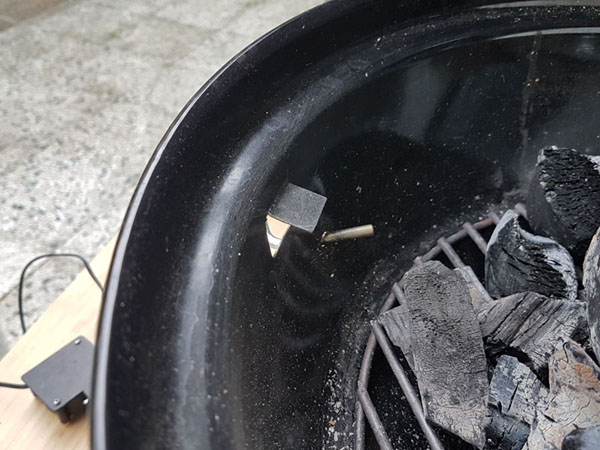 Just move it until it is horizontal and the air will be directed to the middle of the charcoal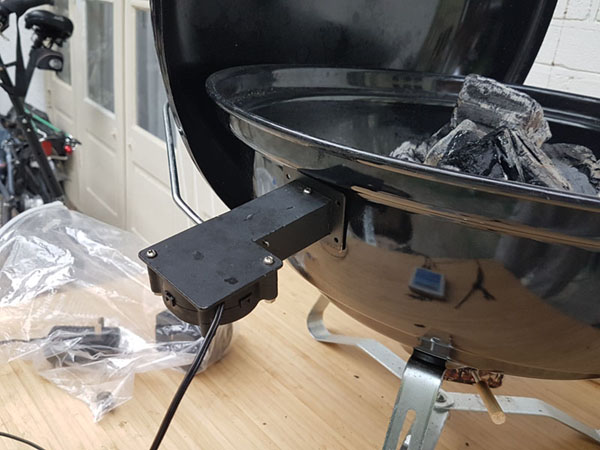 The blower attached to the hole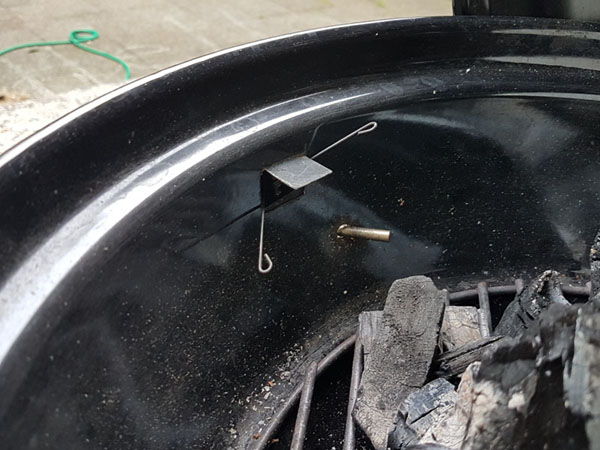 And the blowers metal spring clip holds it in place.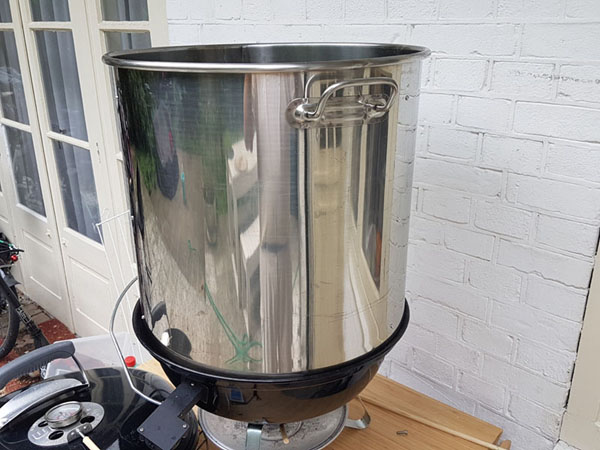 Here is the pot.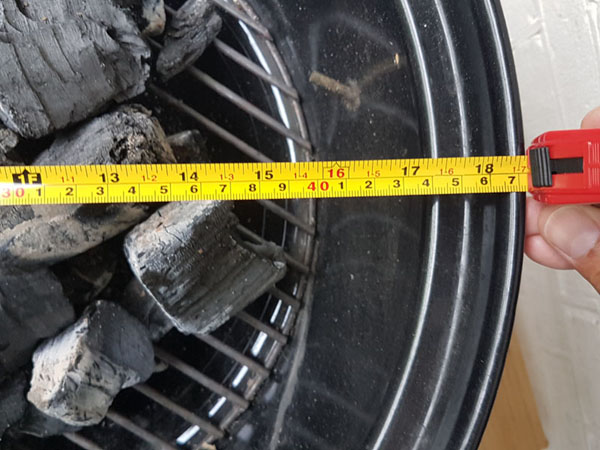 The Jumbo joe outer diameter is 47cm and the inner lip where the fire pit is measures 44cm so the pot sits very stably on the Weber with no imbalance or wiggle room.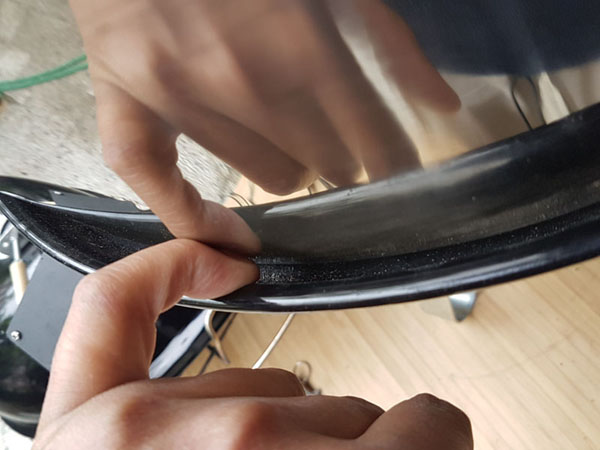 If you push the pot to the side while it is in the weber you will see that there is a gap of about 8mm.
If you wanted to you could add a piece of BBQ gasket to the bottom of the pot to seal it but i will use it for a few month before deciding if that will be necessary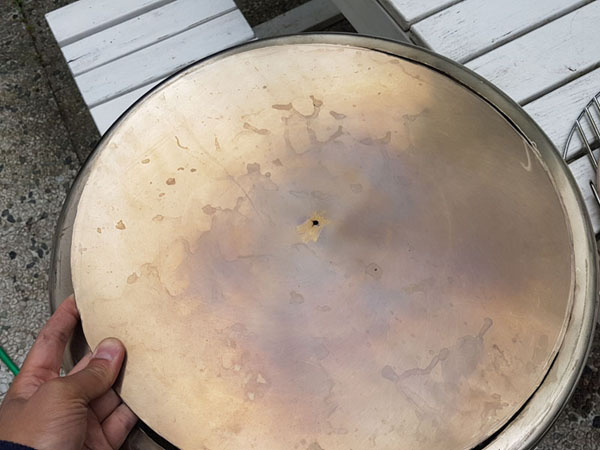 Here is a picture of the bottom after it was cut off I forgot to take photos before I cut it.
The pot is a spun pot so it is very easy to locate the exact centre of the bot from the inside.
Use a metal centre punch to mark the point and then drill a hole.
The pot is stainless steel and it is very hard to drill!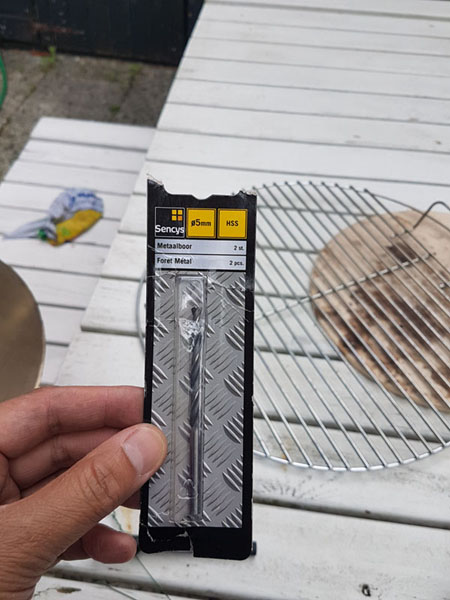 I bought some 4mm cobalt drill bits. To be honest these are not that good. I spent 10 minutes trying to drill a hole and only made a small dent.
I followed the advice online to use the lowest speed and light pressure and also use a drill lubricant.
I could see metal dust coming off the pot but it just didn't seem like the hole would go through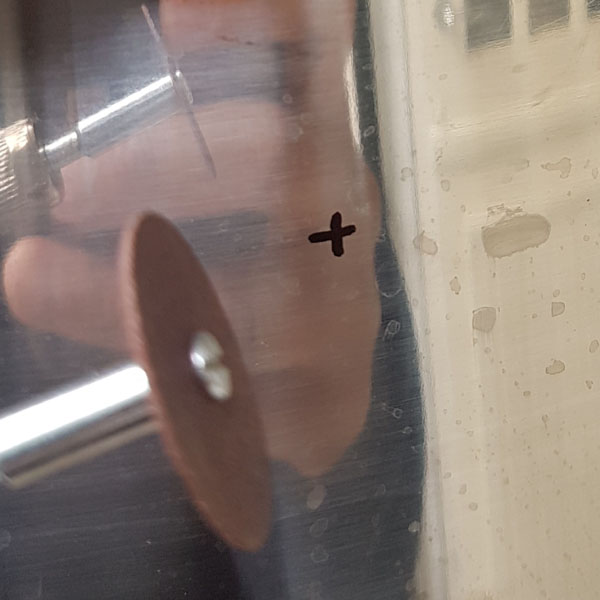 After a while I decided to use the dremel instead.
I marked the spot with an X measuring 5mm x 5mm.
Then I used a cut off disk to grind off that X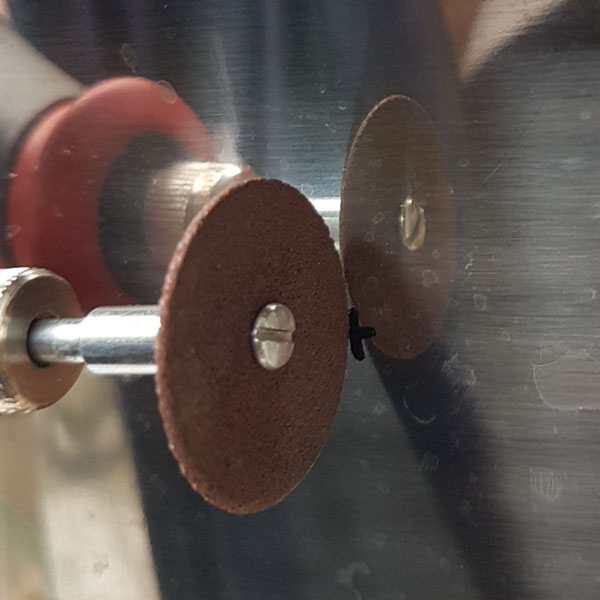 Once you have grounded the X away, then try drilling.
Once you have drilled for a bit you should be able to feel the raised hole indent appearing on the inside of the pot.
When you feel that indent appearing on the inside, take your dremel and grind another X on that spot on the inside of the pot.
Keep grinding until you make a small hole in the metal.
Then continue drilling again.
This method should make the whole process a lot quicker and easier.
Each hole should only take 3 minutes now.
Once you have the hole drilled through deburr it.
Repeat this process for all the holes.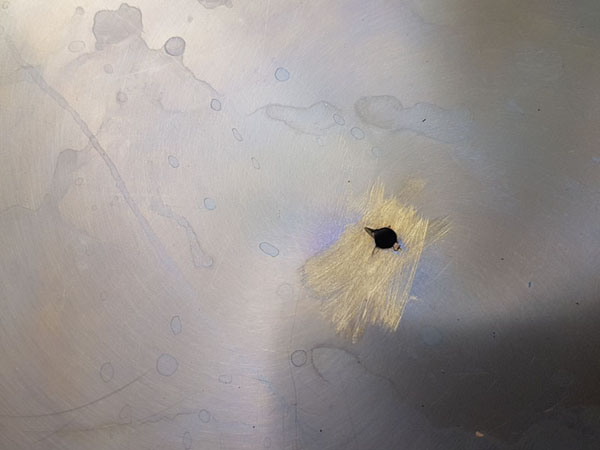 You can see the grind lines on either side of the drilled hole.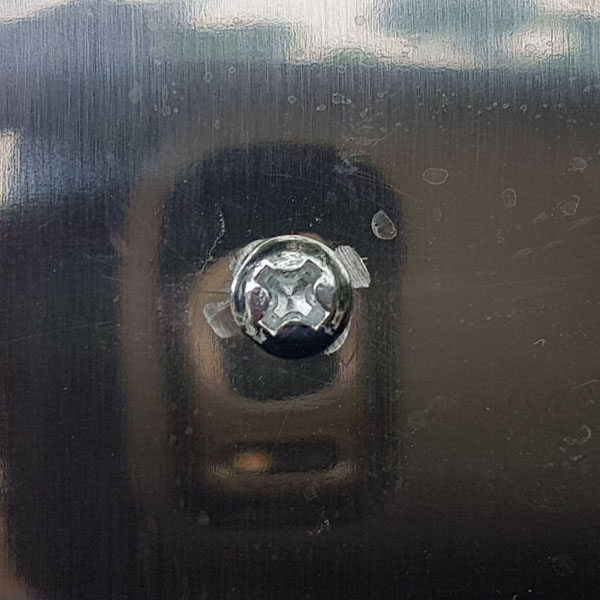 But once the bolt is in it is hardly noticeable unless you are looking for them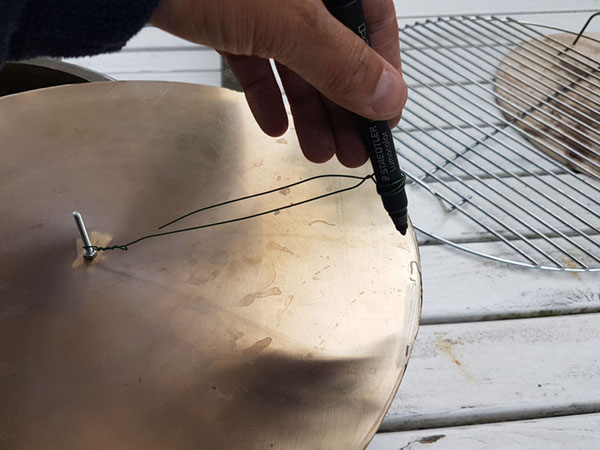 What I did was put a bolt through the middle hole and then used a piece of wire and tied a marker pen to it and used this to mark out the circle.
The diameter of the pot is 45.5cm. I marked out a circle that measure 39.5cm to cut out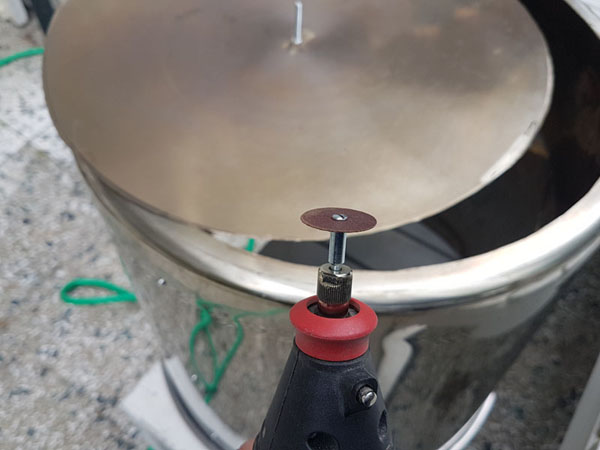 Now there are a lot of ways to cut the bottom out.
You can use a jigsaw with a metal blade. Our you could just make lots of drill holes into the bottom.
The only tool I have are a drill and a Dremel.
I used the dremel cut off disc to cut the hole out.
This took my 90 minutes! and about 30 cut off discs!
Also wear ear plugs it it really noisy when cutting this out.
It wasn't difficult just took a long time.
Once cut out I deburred the edges of the pot and disc this took another 20 munutes.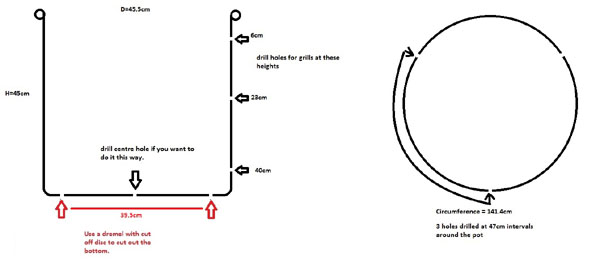 So here are the plans for the cuts and the drill holes.
I chose the hole heights I did to accommodate two rib racks.
The bottom holes are for a grate to hold the heat diffuser. There is no particular reason for this height except I think it should be ok and I can always adjust it later.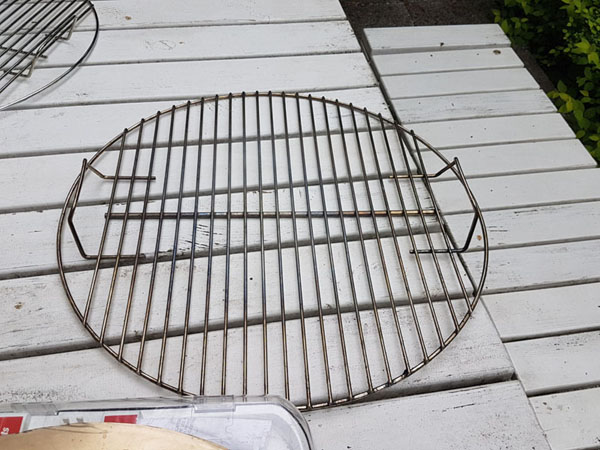 This is the original weber jumbo joe grill.
The reason I chose a diameter of 39.5cm for the bottom cut was so that I could use the bottom piece as a heat diffuser.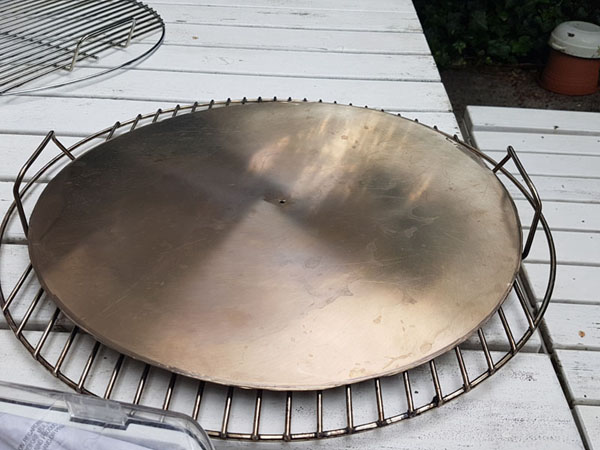 You notice that the bottom cut out piece fits exactly into the holders on the grill grate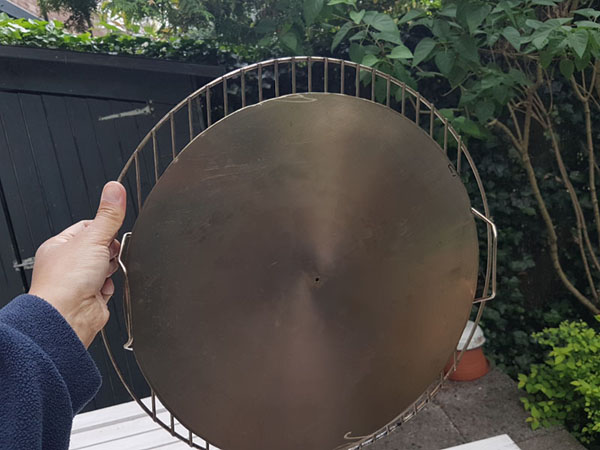 And it holds it tight enough so that it doesn't come out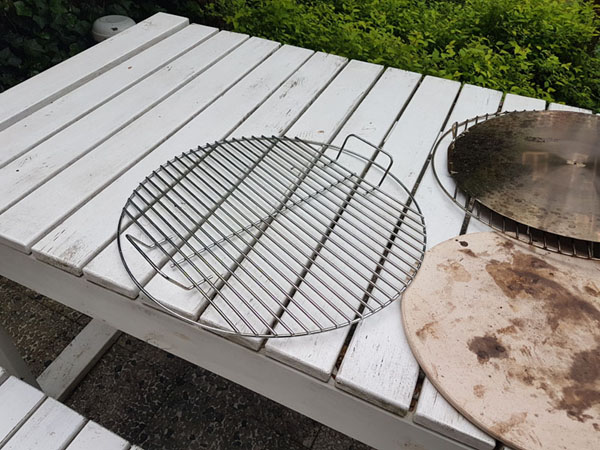 This is a 44.5cm grill grate I ordered and they are a perfect fit.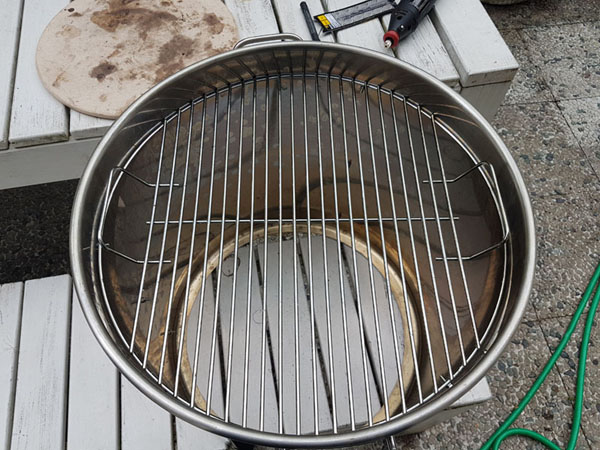 The reason why I chose the grill heights I did was to accommodate two rib racks one on the lower and one on the upper grate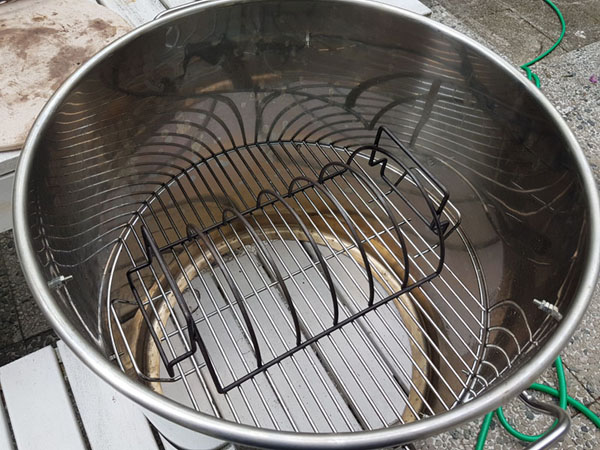 Here is the rib rack on the lower grate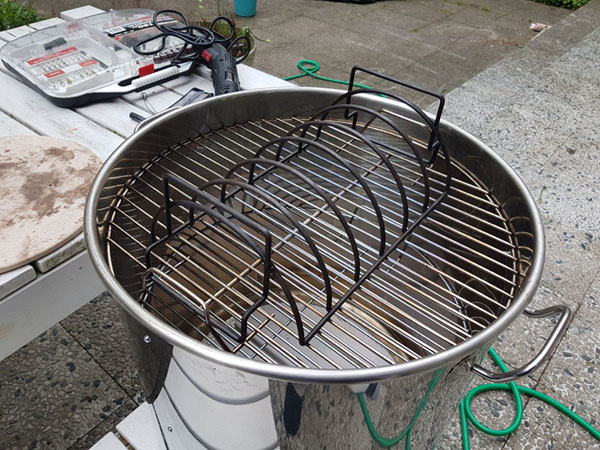 Here is the rib rack on the upper grate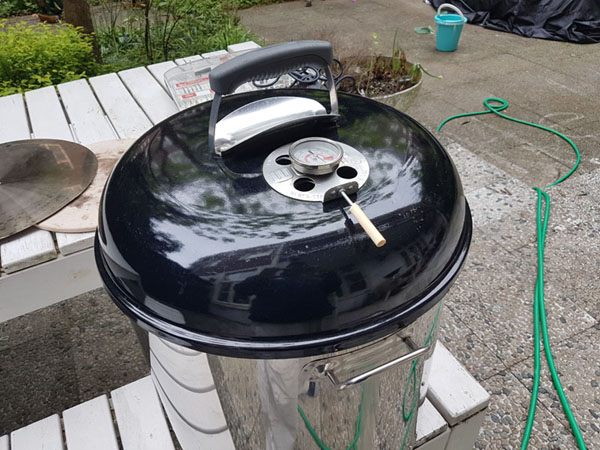 All finished with the lid on.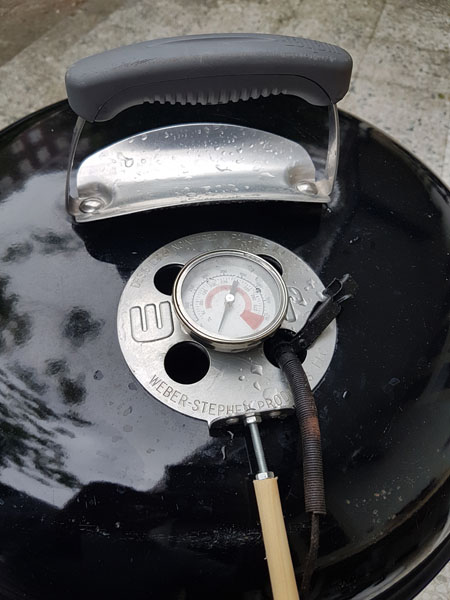 For the moment the Auber probe is just hanging in the top air vent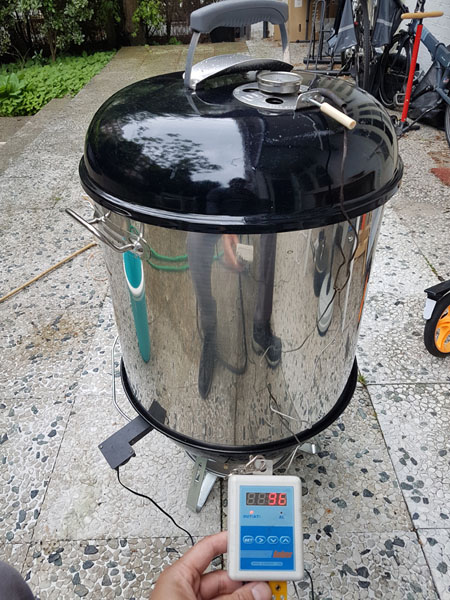 all set up and ready to fire up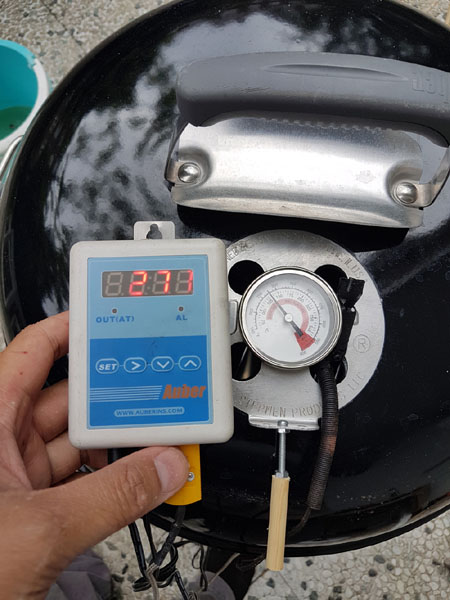 Holding steady at 275F.
In my kamado I would only need a small amount of charcoal to maintain temperature for a long time.
For this build I noticed temperature would drop off pretty quickly without a full load of charcoal in the firepit.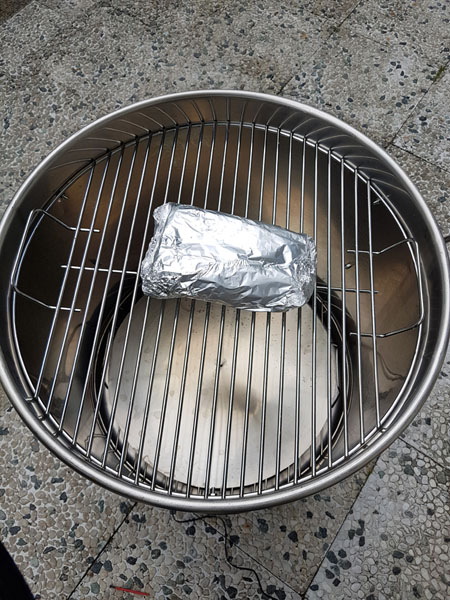 Not going to risk any large amount of meat for the first firing. Just some sweetcorn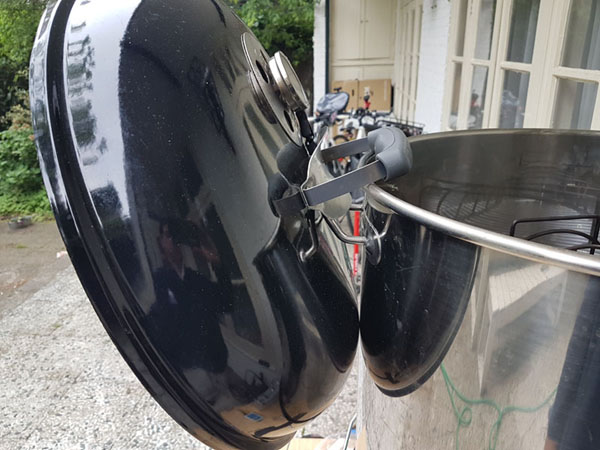 Interestingly the handles on the pot hold the lid perfectly too!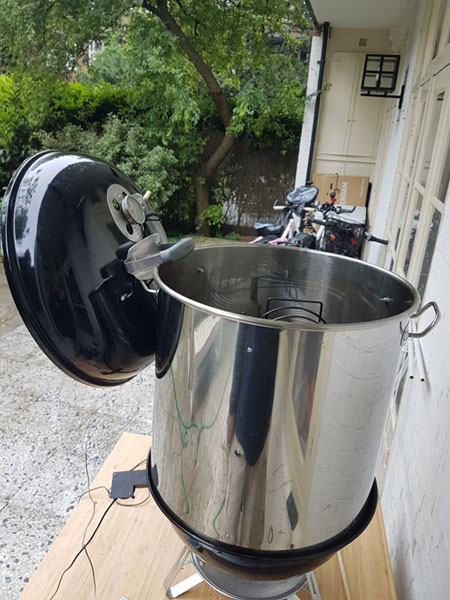 It is pretty stable too with no chance of it dragging the pot over.
Naturally you would not do this for a very high temperature cook as the handle would sticking into the inside where it is hot.
Ok so after doing all of this I am happy with the grill.
It works well has enough capacity for 12 racks of ribs and temperature control is very easy with the auber attached.
Naturally I will need to use it a few more times to learn how to get fine control over it all but I am sure it will be fine.
Future mods include maybe adding some bbq gasket to the bottom of the pot and the top lid.
There is actually room in the pot to add a third grill grate and even to add a rotisserie!
But having said all that would I recommend this build to other?
Nope!
Online the jumbo joe is selling for up to £100 , the pot £80, two grill grates £40.
Total cost is about £220 plus about 5 hours of work to cut the bottom off and drill the holes.
For £160 you can buy a Barbecook Oskar M which is very similar to a Weber smokey mountain and has good reviews.
The only people I would recommend this build to will be those that already have a jumbo joe or who can get hold of a cheaper suitable pot or those that just like building their own.
As I already had a old jumbo joe and most of the tools and parts already this was an easy decision for me.
Well hope you liked my post!
Got Wood!

Joined: 21 Jun 2013, 08:57
---
I really like what you've done there!
Got Wood!

Joined: 27 Jun 2016, 00:18
---
Site Admin

Joined: 02 May 2012, 12:20
Location: Cotton End, Beds
---
I made two additional changes.
1. I cut a semi circle out of the heat diffuser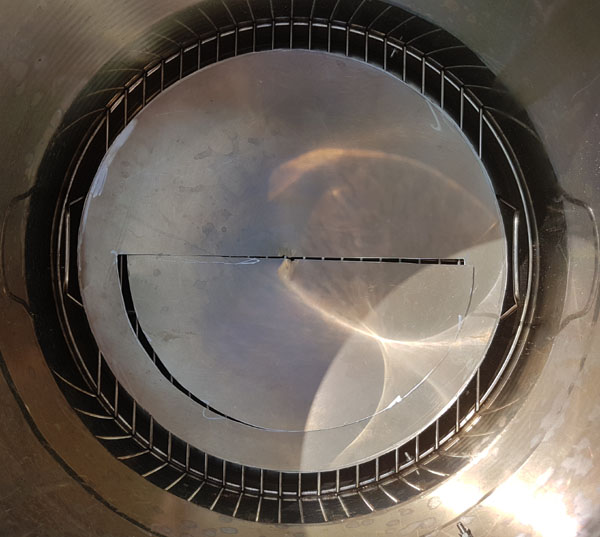 I cut a semi circle into the heat diffuser so I could get two heat zones.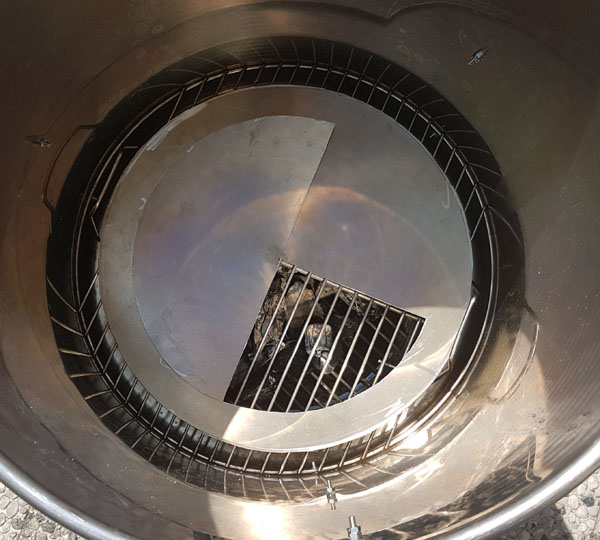 to get a quarter open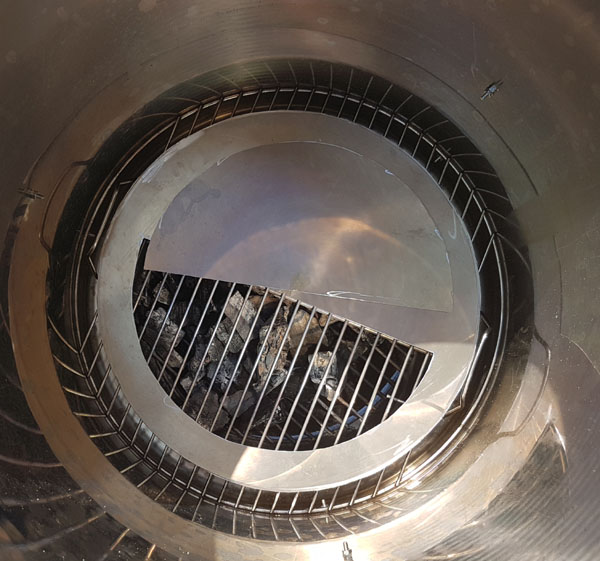 or half open .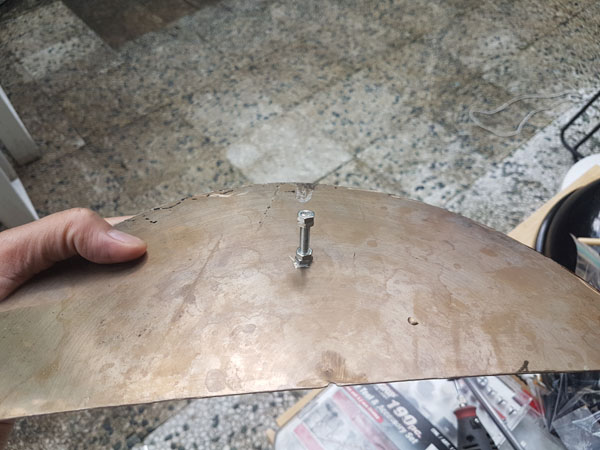 Put a bolt into the the cut out piece just to make it easier to move using bbq tongs.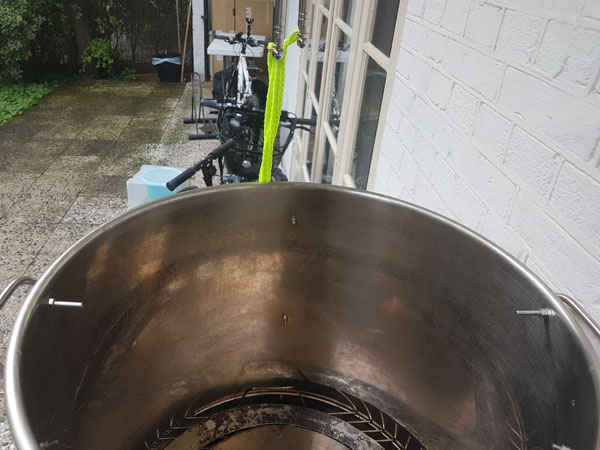 2. I installed a hanging rail by making two more holes and then adding two more bolts.
It was only after drilling the holes that I realised that these two additional bolts would make it difficult to take the grill grates out as they are in the way and you have to unscrew the bolts!
What I should have done was to use one of the existing bolts that hold up the grill grate and drill a hole opposite it.
This would have saved me drilling an extra hole and would not make taking the grill out difficult.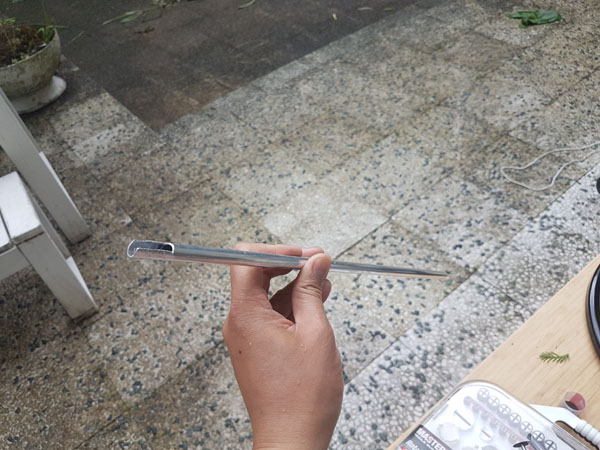 I bought an aluminimum rod and cut it to size. On one end I cut a groove that was wide enough to allow it to sit on the bolt.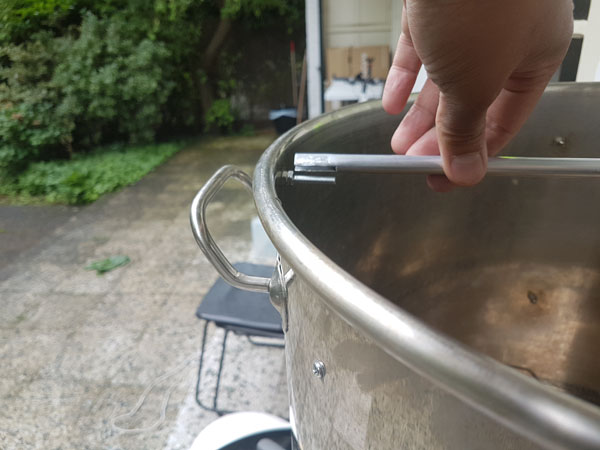 Use pliers to just pinch the end together so that the rod will sit securely and prevent it from rolling and fall off.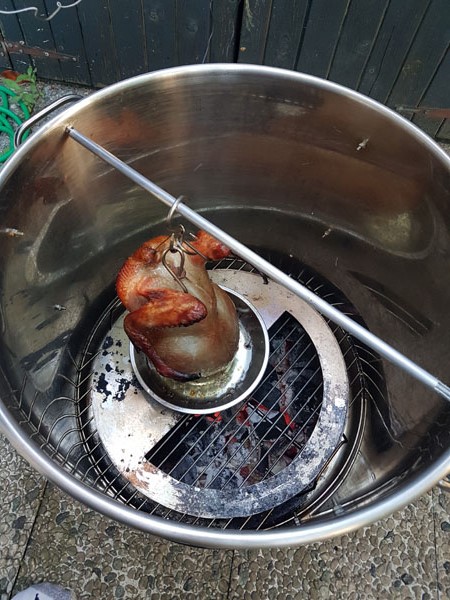 We added the hanging rail mainly to cook a duck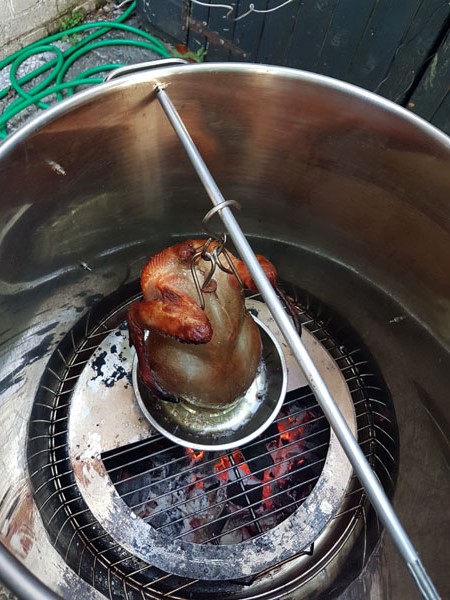 The duck was prepared using a chinese method of blanching the whole duck with boiling water then leaving it in the fridge for two days for the skin to dry.
The inside was marinated with five spice powder, salt, garlic powder, ginger, spring onion and a little sugar.
I cooked this at 175C for an hour before turning the heat up to 220C to brown the skin.
The hook holding the duck is called a bacon hook.
You can buy them from Asian supermarkets but those ones are a little too long for this set up.
Instead I bought 3 'S' meat hooks and bent them into shape.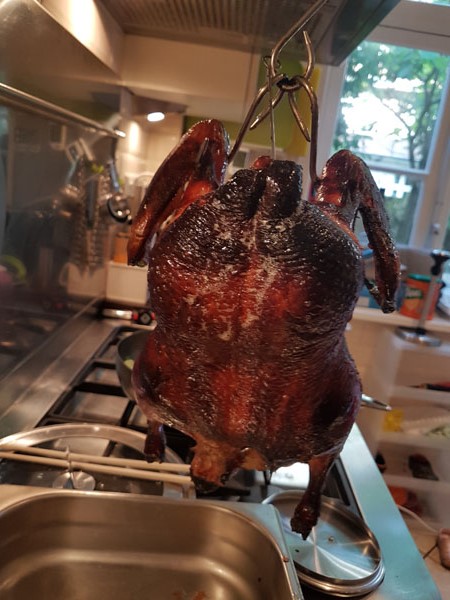 Finished results!
The worked quite well and the duck was tasty and the skin was evenly browned all over.
I am still getting used to how this bbq behaves compared to my old kamado.
The one thing I noticed is that you have to fully load up with charchoal and also to add charcoal to maintain a steady temperature of 175C.
The one advantage of this over my old akorn kamado is that it much larger! I could roast 2 or maybe even 3 ducks with this set up.
I also bbq'd some jumbo shrimp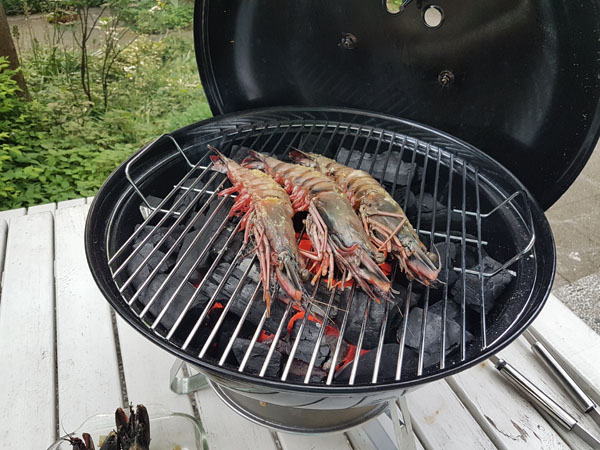 Got Wood!

Joined: 21 Jun 2013, 08:57
---
---
Who is online
Users browsing this forum: No registered users and 3 guests