Had to do a load of work in the fields this weekend so I thought, "Lets take the BBQ up and we can cook lunch on that" so we did
I was using the little portable one I got last year [
viewtopic.php?f=43&t=4913
]) and realised this is only the third or fourth time I've used it.
I went to the butcher on Saturday morning and got a couple of sirloin steaks just over an inch thick and then got home and started a bit of prep, so I I could take everything up in the Land Rover and not have to come back. SO got the plates, and knives and forks.
I thought some garlic bread would be nice so I got a small ciabatta, sliced in half and poured a little olive oil on and wrapped it up with a garlic clove, the plan being that when it's been toasted, cut the clove in half and just rub it over the bread
Then for the sidedish, I got a few potatoes and roughly chopped them along with some onions and sliced a few garlic cloves thickly, put it all in a foil parcel and sprinkled with dried oregano and put some small chunks of butter in there too. I made the parcel flat instead of a pouch shape so that there weren't loads of tatties in the middle that were uncooked.
And then there's the steak mmmmmmmmmm
I just put some seasoning (Salt, pepper Garlic powder, equal amounts of each) in a tub to take up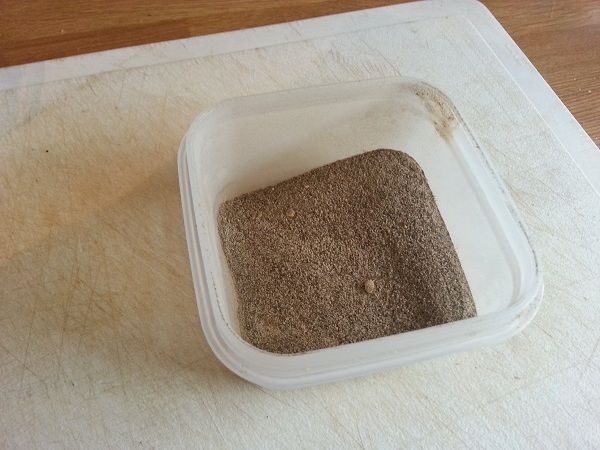 Put it all in a box and threw it in the back of the car with all the other kit. First things first, before starting work, gotta get the coals going
While the chimney was doing it's thing we set off working and came back half an hour later to pour it in the BBQ with a little more coal, got the tatties on and had a union mandated brew break, I can think of worse places to BBQ
SO, we had our brew and got back to work and came back half an hour later to check the tatties and they were done, so took them off and put to the side and got the steaks on, sprinkled one side with the SPG seasoning and put that side down on the BBQ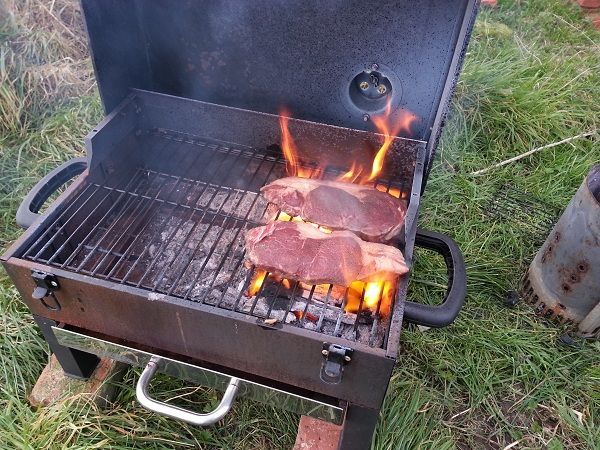 Gave them a minute or so, seasoned the top side and gave them a flip then moved them off to the side put the garlic bread on and shut the lid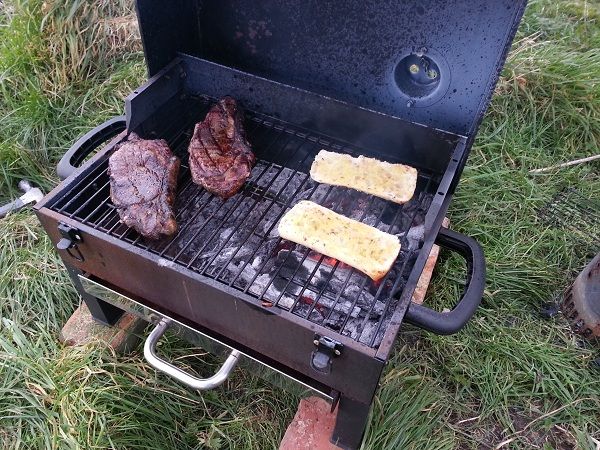 Then pulled some stuff out of the car and completely forgot about the garlic bread... OOPS, burnt garlic bread DAMNIT
But the steak and tatties were fantastic, the missus took some pics, I forgot to as I was so damn hungry, we were walking about removing and rolling up barbed wire fencing and all we could smell was charcoal and garlic.... (why don't we have a drool emoticon?)
We repeated on Sunday but had sausages instead of steak. Those potatoes were fantastic though, give it a go, definitely a good BBQ side that you can prep, wrap and take with you if you're BBQing away from your house.
Not a bad place to eat either
Anyone else BBQ this weekend?
Twisted Firestarter

Joined: 04 Jul 2012, 10:48
Location: Melksham, Wiltshire
---
Oh yeah, lunch on Sunday, you can just see the butchers (red brick building)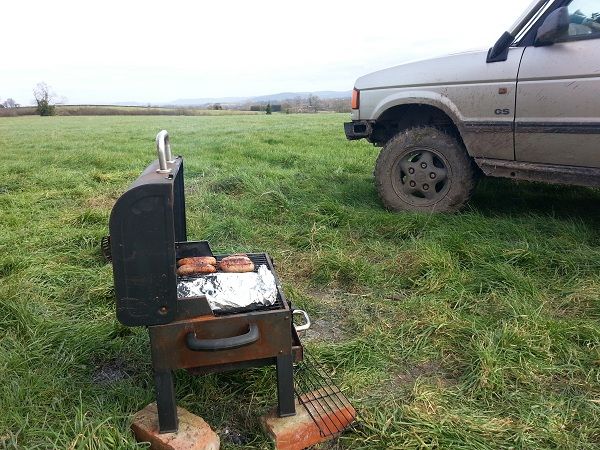 Twisted Firestarter

Joined: 04 Jul 2012, 10:48
Location: Melksham, Wiltshire
---
That looks right on. Great Portable BBQ. Ciabatta steak sandwiches are stunning. Beats a flask of soup anyday
Butchers on site to, spoilt
Still Raw Inside

Joined: 19 Jan 2015, 09:03
---
Nice idea, glad the weather held out for you. Nice idea with the tatties I've par-boiled them before to get a kind of sauté effect. Nice pictures as well.
Moderator

Joined: 05 Aug 2011, 13:35
Location: Stevenage, Herts
---
Cheers guys. No sarnies though, that was garlic for on the side, and I thought about par boiling the tatties but then thought that I'd just start them off raw and see how long it takes, and the best thing is they were perfect, and there weren't any burnt ones on the outside, they were all the same 'amount of doneness'
Definitley doing this agin, might move up to the fields for the summer
Twisted Firestarter

Joined: 04 Jul 2012, 10:48
Location: Melksham, Wiltshire
---
The only caveat I can see with a BBQ in the field is waiting for the coals to die down. Or you could douse them with water - but that can get a bit messy. Certainly a lovely day out tough - BBQ Pit Boys style
Rubbed and Ready

Joined: 06 Jul 2012, 13:18
Location: UK
---
aris wrote:The only caveat I can see with a BBQ in the field is waiting for the coals to die down
Not a problem Aris, we were in there all day anyway so once finished I just left the lid open to let them burn down and gave it a shake whenever we past it, by the time we left it was as cold as my mothers stare when I got sent home from school once
Twisted Firestarter

Joined: 04 Jul 2012, 10:48
Location: Melksham, Wiltshire
---
---
Who is online
Users browsing this forum: No registered users and 1 guest