Next mod was to replace the stock latches. These are OK but a bit weak and also leak very slightly plus they do not close the doors very tightly. Having installed Nomex gaskets everywhere the doors still leaked slightly. Not enough to spoils a burn maybe but I'f I'm going to drive this thing with forced air and two microprocessors, web link up etc etc I want a real seal!! I ordered lift&turn compression latches from a surplus stock supplier in the US.
First to shape out the latch holes in the door. Fortunately it aluminium so easy to do with a Dremel.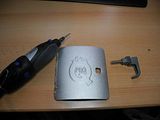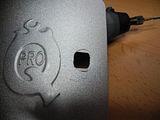 The finished job. Just the business!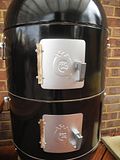 Still Raw Inside

Joined: 10 Oct 2014, 10:06
---
Looks great. Where did you get the latches from and how much please?
Got Wood!

Joined: 23 May 2014, 06:34
---
---
Who is online
Users browsing this forum: No registered users and 1 guest