Very pleased
with my first big cook on saturday for 25 guests of 10Kg of Spare Ribs (6 racks) on my kamado Joe, been practicing with Baby backs and spares, for a few weeks. Prepped on friday to keep workload to minimum on the saturday, membrane removed, salt and rubbed with a mixture of sugar, more sugar , paprika, onion & garlic powder. Cooked low and slow at 120C grate (Dome temp was considerable lower) with a few lumps of apple wood for 3 hours. I then foiled and stacked them on my Gas grill for 2 hours , then unwrapped them for 1 hour adding a sticky BBQ sauce for last 10 mins. I also smoked a few chicken pieces while the Ribs were on the gas grill. Home made Beef burgers and Slaw was also served with an Apple Tarte Tatin done on the Gas Grill.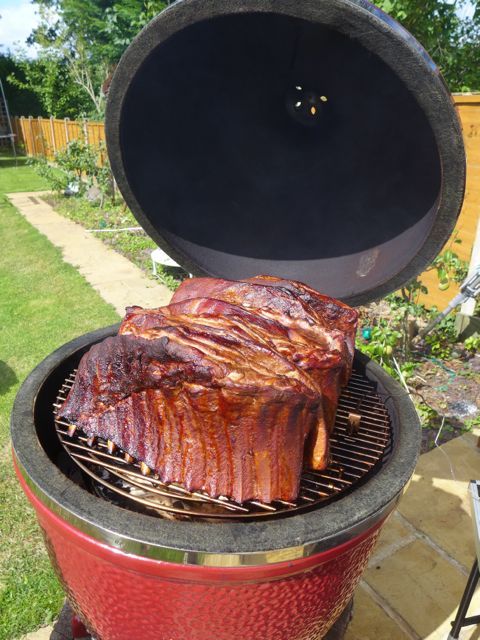 Last edited by
Reefshark
on 25 Aug 2014, 14:52, edited 1 time in total.
Got Wood!

Joined: 20 Jul 2014, 19:36
---
Sounds great, links don't work but sounds like a fantastic first big cook. Did you want to link to your photo account or show the image in your post?
Moderator

Joined: 19 May 2010, 19:25
Location: Sunny (sometimes) North Devon
---
Looking at your post, the image is too large and you missed the [ before the /img at the end. Try resizing the picture or using the direct link for a small image in photobucket
Moderator

Joined: 19 May 2010, 19:25
Location: Sunny (sometimes) North Devon
---
Got Wood!

Joined: 20 Jul 2014, 19:36
---
And the Apple Tarte Tatin
Got Wood!

Joined: 20 Jul 2014, 19:36
---
---
Who is online
Users browsing this forum: No registered users and 2 guests