So this weekend was perfect weather for a braai so I had to do it
I opted for a beef forerib. Wow, what a cut this is. It's fairly substantial for the cost and the flavour is immense. I made a lovely rub from a Steven Raichlen book and left that to work its magic for about 4 hours. Then I prepared some vegetables with olive oil, salt, pepper and balsamic vinegar and left them to marinade for an hour. Over to the grill!
I was pushed for time so I just did the rib and vegetables on indirect heat on my Weber MasterTouch 57cm. My intention was to leave it to cook until it reached an internal temperature of 60C and then rest it, but again I was pushed for time so resting wasn't going to be easily achieved so I left it on for a bit longer and took it off at roughly 68C. It was actually going up by about a degree almost every minute toward the end
Anyway, here are some pics: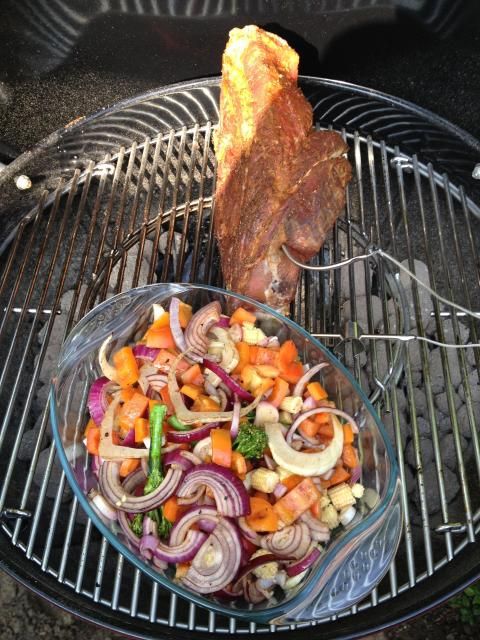 Got Wood!

Joined: 09 May 2014, 14:30
---
I keep trying to add more pics but it keeps telling me that they can't be more than 600 pixels wide, yet each image has been resized to 640 x 480
Got Wood!

Joined: 09 May 2014, 14:30
---
Got Wood!

Joined: 09 May 2014, 14:30
---
They look great, cooked to perfection! Recently had forerib too, but served as slices of steak, with the rib as a pitmaster privilege!
Still Raw Inside

Joined: 20 Aug 2014, 20:53
---
That's my favourite cut of beef to BBQ - can't beat it and we can serve my family of four from a single rib (the girls are only small so just need a couple of slices each). You look to have done a great job on it!
Got Wood!

Joined: 23 Apr 2014, 20:49
---
---
Return to Hot 'n' Fast (Grilling)
Who is online
Users browsing this forum: No registered users and 1 guest