Hi,
I was given a Weber Pizza Oven so my DIY pizza kettle clone is now needing a new home. Laser cut stainless steel, all stainless bolts, lightweight heat panel, oak handles. The heat shield protects you kettles lid and keeps all the heat down where it's needed - on your pizza!
Pizza Oven - £50
Weber Pizza Stone - £20 (£35 new)
It cost me more than this to make it but I'll be happy knowing it's going to another BBQ fanatic!
Collection only - Tilehurst, Reading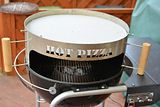 Still Raw Inside

Joined: 10 Oct 2014, 10:06
---
Little confused as to how this works? Is the pizza on top or on the grill? Would I need a jet funnel for the charcoal?
Got Wood!

Joined: 22 Jun 2012, 22:20
---
The Vortex was just in my kettle for the photo. I do not use it for the Pizza Kettle. The Pizza stone sits on the grill and you build a banks charcoal fire at the rear. The heat convects up and over the pizza and out the front of the pizza oven. This cooks the top and bottom of the pizza at the same time.

Hope this helps.
Still Raw Inside

Joined: 10 Oct 2014, 10:06
---
Is this still for sale? I am very interested and can pick up as Reading is not far from me at all.
Still Raw Inside

Joined: 07 May 2015, 10:07
---
---
Who is online
Users browsing this forum: No registered users and 1 guest